Helen to demonstrate sector integration in a unique hydrogen project
The energy company Helen is looking to produce green hydrogen for users in several sectors and utilise waste heat in district heating in Helsinki. This initiative demonstrates the many ways in which hydrogen can boost the energy system in the future. 
Hydrogen project article series introduces the projects and perspectives of H2Cluster Finland member companies.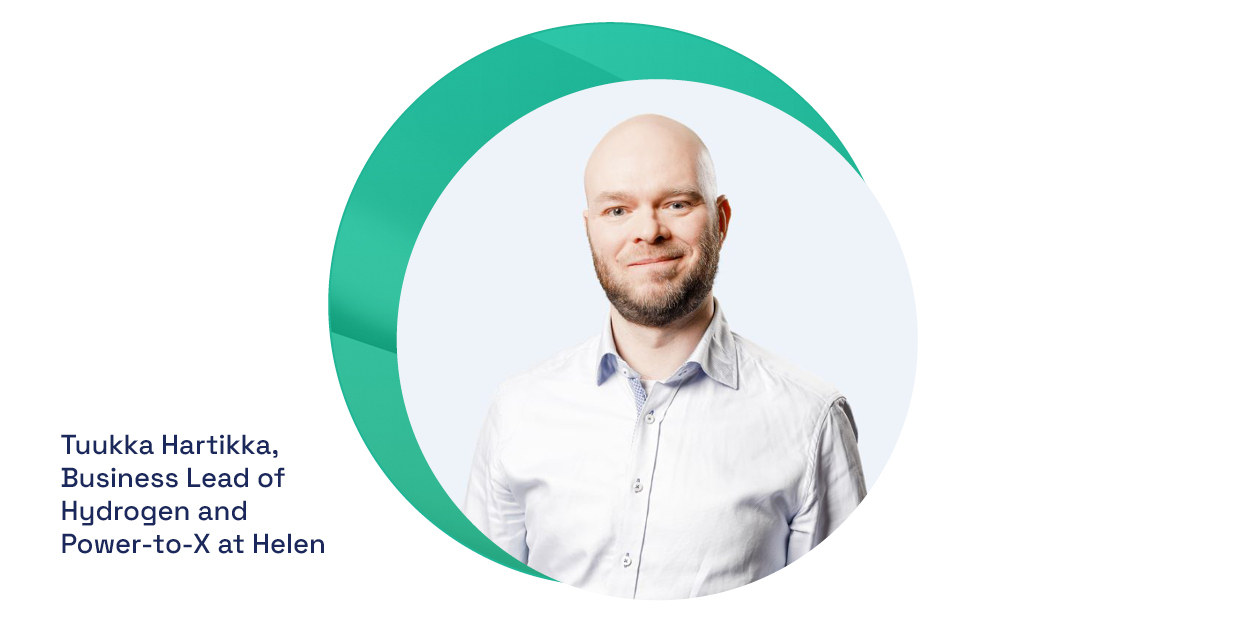 Helsinki-based Helen aims to start hydrogen production by 2024. While preparing for the growing hydrogen economy with this pilot project, Helen is also increasing its wind and solar power production in a fast pace.
"We see hydrogen production as an essential way of storing and utilising wind and solar power and thus safeguarding these investments as well as balancing the power grid. As a district heat producer, we are also able to utilise the waste heat resulting from hydrogen production," says Tuukka Hartikka, Business Lead of Hydrogen and Power-to-X at Helen.
Helen has applied for investment support for the hydrogen project from the Ministry of Economic Affairs and Employment of Finland and expects to receive its decision at the beginning of 2023. 
"Our goal is to be a significant hydrogen producer by 2030,"
Hartikka adds.
Using hydrogen to power vehicles and balance the electricity grid
The project will result in 3H2 – Helsinki Hydrogen Hub, which will be the first hydrogen project of Helsinki Clean-Tech Hub. Besides a hydrogen plant, it will host a hydrogen refuelling station for heavy transport. The hub will be located near the Vuosaari energy production site and the Port of Vuosaari in Helsinki, which means easy and fast filling along the main route of the trucks.
"The share of electric vehicles will continue to grow, but to cover the whole transport sector, other carbon neutral solutions will also be needed," Hartikka says.
Besides providing hydrogen for fuel cell vehicles, Helen is also interested in delivering hydrogen to industrial users as a raw material for example for e-fuels and chemicals.
To balance the power grid, Helen is also prepared to store hydrogen and convert it back into electricity when needed. This will be done with a hydrogen fuel cell located at the same site with the hydrogen production unit. 
"Our pilot project will be the first of its kind in Finland, as it ties together several industry sectors in a carbon neutral way. We will use hydrogen to store energy, make electricity, power heavy traffic, and heat buildings."
Modular and scalable concept to be demonstrated
In addition to all equipment needed, Helen aims to create a system to control and optimise hydrogen production based on the supply of renewable electricity. According to Hartikka, the control system will be scalable along with the production.
"All in all, we aim to demonstrate a modular and scalable concept, starting with a capacity of two megawatts, that can be applied to various uses. The hydrogen pilot project will offer us an opportunity to develop our capabilities and test a range of hydrogen related technologies. While doing this, we will reduce carbon dioxide emissions in traffic and district heating by 70 000 tons over the 20-year lifetime of the plant."