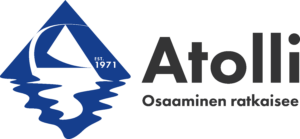 Atolli Oy
Atolli Oy provides low carbon plastic material solutions for H2 production and logistics.
Atolli is a Finnish family company serving industries in different fields. We have acquired knowledge and experience of plastic materials, components, products, installations and maintenance since 1971. We have close connections to plastic and chemical federations and manufactures in Finland, Europe, and North America. We are committed to get the correct plastic products to the correct locations quickly, on time and cost-effectively. In most applications plastics have a lower total greenhouse gas contribution than alternative materials.
Our product range includes pipes and fittings, valves, panels, sheets and fabric sheets, bars and profiles, hollow bars, membranes, lining materials and gratings. Our production can design and manufacture customized products for customers. We also provide plastic welding machines and training for them.
Please don't hesitate to contact us!
---
Contact
Christian Sundberg
christian.sundberg@atolli.fi
+358 40 900 9630
Jonna Pulkkinen
jonna.pulkkinen@atolli.fi
+358 20 777 0511
Links
Website